Знакомство
Линейка компактных фотоаппаратов PowerShot G от Canon является одной из самых «долгоживущих». В этом году ей исполняется 18 лет. Трудно поверить, но первый фотоаппарат серии появился ещё до момента выхода на рынок доступных любительских цифровых зеркалок! Фотоаппараты PowerShot всегда отличались характеристиками «выше среднего» и предназначались прежде всего для продвинутых фотографов. Героем этого обзора станет новинка Canon PowerShot G1 X Mark III. Её стоимость сопоставима с ценой полноценной зеркалки, да ещё и не с одним объективом, но мы расскажем, в каких случаях и почему эта модель выигрывает у зеркальных камер.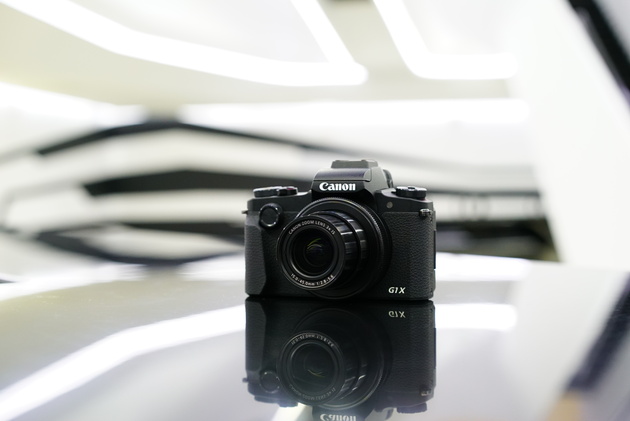 Компакты G-серии никогда не конкурировали ни с дорогими зеркалками, ни с дешёвыми «мыльницами», всегда существовали в собственной нише и, подобно древней рептилии, спокойно переживали все потрясения фоторынка. Они видели расцвет зеркалок, появление беззеркалок, закат конкурентов… И всё это время являлись просто качественными компактами.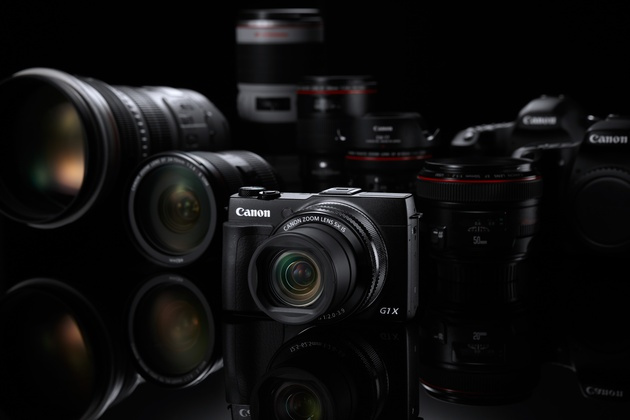 Но в 2012 году кое-что изменилось. В G-серии появилась модель, которая уже не могла оставаться в тени других камер. Canon PowerShot G1 X обладал огромным по сравнению с предшественниками сенсором изображения, который лишь немного уступал по размерам сенсорам зеркальных фотокамер. Однако достойно вступить в конкурентную борьбу камере тогда помешали объективные отставания по ряду характеристик, прежде всего по быстродействию. Разработчики на этом не остановились и спустя три года представили второе поколение, оснастив фотоаппарат мощным процессором DIGIC 6, 12,8-Мп сенсором формата 1,5″ с физическими размерами 18,7×14,0 мм и 5-кратным несменным зум-объективом с высокой светосилой f/2–3.9 и фокусным расстоянием 24–120 мм в 35-мм эквиваленте. Все тонкие места во второй версии были устранены.
Но Canon не был бы одним из лидеров отрасли, если бы остановился на достигнутом. В октябре 2017 года компания представила PowerShot G1 X под индексом Mark III. Давайте познакомимся с героем нашего сегодняшнего обзора поближе и разберёмся, что в камере нового и на кого она ориентирована.
Товар на центральном складе
О товаре
Отзывы (1)
Вопрос — ответ (0/0)
Характеристики
Обзоры ( 1 )
Лучший отзыв
Достоинства: Первая камера флагман компакт/беззеркалка в одном. Удобство использования. Реально рабочие iso 6400 даже с таким объективом. Кстати объектив действительно для компакта хорош(зря на форуме его глумят). Может в следующую модель вставят 2.8-4.0 , но габариты изменятся. Физику не обманешь. Колеса управлений все на своих местах- ни много, ни мало. Лично мне хватает и они настраиваются под себя.Есть неплохая встроенная вспышка(поднимается пальцем- кнопкой привычнее.)Зарядка в камере от USB. Откидной сенсорный монитор + съемка в одно касание . Хороший стаб для работы в темное время. Защита от влаги.
Недостатки: Матрица , в отличии от фджей ,никонов и пентаков с антимуровым фильтром. Что немного сказывается на резкости.Крышка объектива маленькая и тупая. Пальцами вообще не удобно пользоваться. Взял от старого кофра кожаную крышку( по размеру подошла под диаметр. Подрезал , подогнал.) Теперь намного лучше. Объектив темноват. Вспышка помогает(правда мобильно после открытия не срабатывает).
Описание
Сверхсовременная флагманская модель серии G с удобным управлением, высокой скоростью и возможностями зеркальной камеры.
Новый представитель легендарной серии, G1 X Mark III обладает скоростью, качеством и надежностью уровня цифровых зеркальных камер, а также легкостью и удобством управления камер PowerShot. Идеальный выбор для фотографов, которым требуется универсальная замена цифровой зеркальной камере.
В камере G1 X Mark III используется датчик изображения APS-C 24,2 МП, 3-кратный оптический зум с широкой диафрагмой и фокусным расстоянием 24–72 мм, а также процессор DIGIC 7, которые помогают снимать превосходные изображения и видеоролики.
Система Dual Pixel CMOS AF позволяет успешно проводить съемку в любых условиях, обеспечивая быструю и точную фокусировку, а стабилизация изображения, эквивалентная 4 ступеням выдержки, позволяет выполнять плавную съемку с рук.
Используйте постоянное Bluetooth®*-соединение G1 X Mark III для легкого подключения к мобильным устройствам. Раскройте свои творческие возможности с помощью полного ручного управления через приложение Camera Connect.
Conclusion
Pros
Cons

24MP APS-C sensor, good image quality
Abundant external controls
High level of build, claimed weather-sealing
Usefully small
Comfortable grip
Reliable Dual Pixel autofocus
Fully-articulating touchscreen
High quality electronic viewfinder
9fps burst shooting (7fps with AF)
Built-in flash with high speed sync, external flash hotshoe
Good in-lens stabilization
3-stop neutral density filter built in
Highly customizable touch-and-drag AF functionality
Default JPEG sharpening is improved
Supports in-camera charging
Good wireless connectivity options
Effective digital stabilization in video shooting

Expensive
Slow max aperture really limits image quality benefits of the bigger sensor
Battery life is dismal
Lens is somewhat soft, especially in comparison with ILC peers
Buttons are too flush with the body
Eye sensor for EVF is too sensitive, remains active with screen flipped out
Macro mode is basically vestigial
No 4K video
No microphone input
No option for lens control ring to be 'clicky', limiting its appeal for discrete settings
No high-speed sync using flash hotshoe
No option for full-resolution timelapse
No access to card or battery if working on a tripod
Overall conclusion
Canon's PowerShot G1 X Mark III exists in somewhat of a vacuum. It has a large APS-C sized sensor, is small enough to be considered pocketable, and has a permanently attached zoom lens with a versatile focal range. In other words, there have been plenty of cameras in the last few years that have checked off two of those three boxes, but the Canon is the only one to address them all.
And after a glance at the 'pros' list at the top of the page, you may note that Canon has really gone all-in on the G1 X III. The result is an impressively well-built and compact camera with a lot going for it. The controls are well thought-out, it's capable of fantastic image quality and the autofocus and overall performance are excellent. Yet, we have reservations. There are smaller cameras, such as the Sony Cyber-shot RX100 V, which offer comparable image quality in a wide range of situations.
And indeed, with the simple consideration of 'pros' and 'cons', it can be difficult to communicate the ultimate weight of individual items on each list. This is particularly salient here because, unfortunately, it's the lens on the G1 X III is responsible for much of its undoing in our eyes. True, the lens contributes to the camera's impressive overall compactness. But compromises have been made, specifically in terms of maximum aperture, that cannot be ignored.
Let's dig in and see how the G1 X fares, overall.
Body, controls and features
Читайте также:
Apple iphone 7 32 gb jet black
The fully-articulating screen is really handy, especially for placing your AF area, but the sensitive always-on eye sensor resulted in some missed shots with the screen flipped out. The shutter button feels great, but the other buttons are a little too flush for our tastes. The built-in flash will sync all the way up to the G1 X III's maximum shutter speed of 1/2000 sec, but when you attach an external flash, you're limited to 1/250 sec.
The G1 X III features in-camera Raw conversion, which pairs well with its robust wireless connectivity settings. You can create Full HD time-lapse movies in-camera, but you can't set the camera up to do the same with full-resolution JPEG or Raw files. There's a 'Macro' focus mode, but so far as we can tell, it doesn't actually let you focus any closer nor more quickly on a subject. In all, the G1 X III has a pretty broad feature set, but there are some strange limitations that have us scratching our heads.
Performance and autofocus
articles/4854323346/7550941047.jpeg" />
Out-of-camera JPEG.
24mm equiv. | ISO 800 | 1/125 sec | F2.8
Photo by Carey Rose
The PowerShot G1 X III will power on and fire off an image at around two seconds, which isn't too shabby for a camera needing to extend a built-in lens at startup. Battery life is pretty uninspiring at 200 shots (per CIPA), but at least there's both in-camera charging and an external wall charger included in the box. The spare batteries are small in size, but we must admit, we'd take a larger grip with a larger battery if given the option.
Overall performance is responsive — though if you manage to fill the buffer with a burst, you're locked out of menus until the data has been written to your card. With a reasonably fast card installed, it isn't a big concern.
Autofocus performance from Canon's Dual Pixel technology is impressive, as we've come to expect. A 24-72mm equivalent lens clearly isn't designed with sports in mind, but we've been impressed with the camera's face detection for more casual social interactions.
Image and v >

Читайте также:

A data xpg sx6000 обзор

Out of camera JPEG.
24mm equiv. | ISO 100 | 1/1000 sec | F3.5
Photo by Carey Rose
When we were first told about the Canon PowerShot G1 X Mark III, we were pretty excited. It is the only camera on the market with a zoom lens and an APS-C sensor that can fit in your pocket. Unfortunately, despite its premium pricing, the G1 X III is only about as capable as any of Canon's entry-level interchangeable lens cameras with a kit zoom. And on those cameras, if you want to swap the kit lens with something else, well. you can. On this PowerShot? You can't.
Sure, there's claims of weather sealing, as well as a neutral density filter and leaf shutter. And the camera comes with well-designed controls. Battery life is almost unforgivably short, but is part of the tradeoff for compactness. Also, that viewfinder 'hump' comes with not only a viewfinder, but also a hotshoe and a built-in flash.
And yet — I find it hard to imagine myself recommending the G1 X III to anyone in particular. Sony's options are less user-friendly, but offer far more speed and video options. Perhaps most crucially, Canon's own G7 X Mark II offers similar speed, smaller size, better battery life and comparable (if not better) image quality in most situations besides daylight landscapes. Also, it's considerably less expensive.
The PowerShot G1 X III is absolutely capable of fantastic photos, but the compromises that have been made — specifically regarding its lens and battery — hold it back too much for us to recommend it wholeheartedly over a number of competitors in the marketplace.
Scoring is relative only to the other cameras in the same category.
Click here to learn about the changes to our scoring system
and what these numbers mean.
Adblock detector