IT-Security, Networks, IPv6, DNSSEC, NTP, Monitoring, DIY
The native Android IPsec VPN client supports connections to the Cisco ASA firewall. This even works without the "AnyConnect for Mobile" license on the ASA. If only a basic remote access VPN connection is needed, this fits perfectly. It uses the classical IPsec protocol instead of the newer SSL version. However, the VPN tunnel works anyway.
In this short post I am showing the configuration steps on the ASA and on the Android phone in order to establish a remote access VPN tunnel.
I am running a Cisco ASA 5505 with version 9.2(4). The Android smartphone is a Samsung Galaxy S4 Mini with Android 4.4.2.
Cisco ASA Config
The configuration steps on the ASA are mostly the same as for a classical VPN-Client connection profile:
Or the appropriate CLI commands:
Android IPsec PSK
This is how the VPN connection must be configured:
ASA Logs
After a connection establishment, the VPN session details on the ASA show details:
And, of course, via the CLI:
Featured image "Androids" by etnyk is licensed under CC BY-NC-ND 2.0.
Share this:
3 thoughts on " Cisco ASA Remote Access VPN for Android "
hi sir
as you post your configuration above mention .I have configuration to same.but i m not access ipsec xauth .i have cisco asa 5520 with ios 8.2.please send me configuration of 8.2 ios.I have configured below mention
Asa:-
ip local pool abc 117.55.240.35-117.55.240.40 mask 255.255.255.192
crypto ipsec transform-set ESP-AES-128-SHA esp-aes esp-sha-hmac
crypto ipsec transform-set ESP-AES-256-SHA esp-aes-256 esp-sha-hmac
crypto ipsec security-association lifetime seconds 28800
crypto ipsec security-association lifetime kilobytes 4608000
crypto dynamic-map SYSTEM_DEFAULT_CRYPTO_MAP 65535 set pfs group5
crypto dynamic-map SYSTEM_DEFAULT_CRYPTO_MAP 65535 set transform-set ESP-AES-256-SHA ESP-AES-128-SHA
crypto map outside_map 65535 ipsec-isakmp dynamic SYSTEM_DEFAULT_CRYPTO_MAP
crypto map outside_map interface outside
crypto isakmp enable outside
crypto isakmp policy 10
authentication pre-share
encryption aes-256
hash sha
group 5
lifetime 28800
crypto isakmp policy 30
authentication pre-share
encryption aes-256
hash sha
group 2
lifetime 28800
group-policy MainVPN internal
group-policy MainVPN attributes
dns-server value 8.8.8.8
vpn-tunnel-protocol svc
default-domain value cjnet4u.com
tunnel-group WEBVPN type remote-access
tunnel-group WEBVPN general-attributes
address-pool abc
default-group-policy MainVPN
tunnel-group WEBVPN ipsec-attributes
pre-shared-key *****
Yes it is good but pretty expensive. I found this blog < https://www.purevpn.com/blog/remote-access-vpn/ > regarding secure remote access vpn and their services cost are reasonable.
Hi,
Great information! It works with android devices using native VPN "IPSec Xauth PSK", but I'm not sure how to implement it with "Always on VPN"
После покупки Samsung Galaxy Ace у меня возник вопрос: как получать доступ через интернет на смартфоне в корпоративную сеть? С моим предыдущим телефоном iPhone все было просто — работало из коробки.
«Эта функция не нужна», — скажете вы, ведь есть стандартный PPTP/L2TP/Ipsec Vpn. Да конечно, но в больших корпорациях для этого вовсю используют Cisco ASA. Поэтому я был огорчен отсутствием этой функции. Все мои попытки найти готовый софт на эту темы — не увенчались успехом. Когда я попал на сайт запросов новых функций для Андроид и увидел больше 1500 запросов на Cisco VPN Client, то решил действовать сам, благо опыт работы с Unix-Linux имеется.
Внимание: Для работы ножен root пользователь. Для этого установите приложение SuperOneClick или update через Recovery.
Если вы не являетесь счастливым обладателем прошивки с CyanogenMod нам понадобится найти модуль ядра для VPN для конкретной прошивки установленной на Вашем телефоне. Мне помог поиск tun.ko Galaxy ACE 2.6.32.9-perf .
На всякий случай проверим есть ли он у вас:
Есть /system/lib/modules/tun.ko?
Если нет – найденный в инете модуль tun.ko скопируем по нужному адресу.
С терминала на девайcе открываем доступ на запись:
Получилось! Теперь осталось дело за малым — установить VPN клиент.
Я пользую порт VPNC. Можно скачать с Маркета либо на сайте
VPNC
Теперь его настроим.
А что если Ваш админ не дает Вам данные/пароль?
На ПК находим файл *.pcf, открываем его в блокноте.
Нас интересуют строки Host,GroupName,enc_GroupPwd.
В поле Gateway пишем IP адрес либо DNS имя нашего VPN-сервера (Host из конфига)
Username,Password вводим личные.
В поле ID — GroupName из конфига. А вот в поле Secret — enc_GroupPwd.
Только для начала расшифровываем ее на сайте -бесплатно и без регистрации.
Ну вот и все — можем запускать клиент.
Да, чуть не забыл — при первом запуске нужен доступ на запись.
Потом, после перезагрузки телефона, перед стартом VPNC можно подгружать модуль либо вручную,
либо через запуск скриптов типа Gscript, либо добавить внутрь функции do_pre_init() в файле /data/data/org.codeandroid.vpnc_frontend/files/vpnc-script.
Кстати новая версия поддерживает токены — нужно только галочку кликнуть в настройках соединения.
Если у вас редкая прошивка или антикварный телефон с Android, на который тяжело найти модуль для ядра — то есть еще один путь — но это уже тема для следующей статьи.
Данная статья не подлежит комментированию, поскольку её автор ещё не является полноправным участником сообщества. Вы сможете связаться с автором только после того, как он получит приглашение от кого-либо из участников сообщества. До этого момента его username будет скрыт псевдонимом.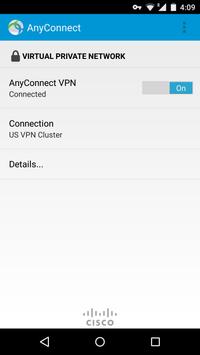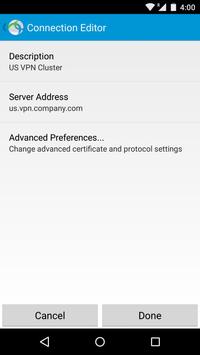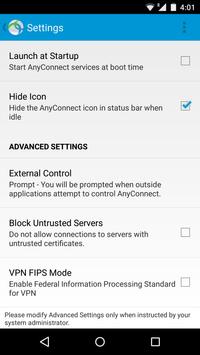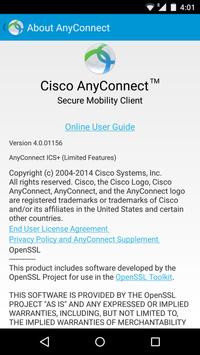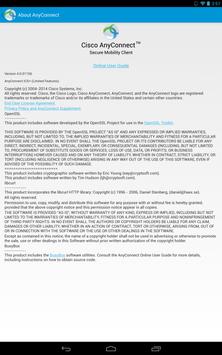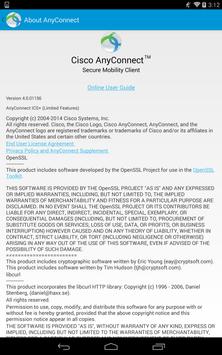 The description of AnyConnect
This package supports Android 4.X+ (ARM and Intel Android), but due to limitations with the Android VPN Framework, some AnyConnect features are not available.
COMPATIBLE DEVICES:
Android 4.X+
KNOWN ISSUES:
— The AnyConnect icon in the notification tray is unusually large. This is a limitation with the VPN Framework.
— Some freezes are known to occur on the Diagnostics screen.
— Split DNS is not available on Android 7.x/8.x (OS limitation)
LIMITATIONS:
The following features are not supported using this package:
— Filter Support
— Trusted Network Detection
— Split Exclude
— Local LAN Exception
— Secure Gateway Web Portal (inaccessible when tunneled)
APPLICATION DESCRIPTION:
AnyConnect provides reliable and easy-to-deploy encrypted network connectivity from devices by delivering persistent corporate access for users on the go. Whether providing access to business email, a virtual desktop session, or most other Android applications, AnyConnect enables business-critical application connectivity.
LICENSING AND INFRASTRUCTURE REQUIREMENTS:
This software is licensed for exclusive use by Cisco headend customers with active Plus, Apex or VPN Only licenses (term or perpetual with active SASU contracts). Use is no longer permitted with Essentials/Premium with Mobile license. AnyConnect use with non-Cisco equipment/software is prohibited.
http://www.cisco.com/c/dam/en/us/products/security/anyconnect-og.pdf
Trial AnyConnect Apex (ASA) licenses are available for administrators at www.cisco.com/go/license
AnyConnect for Android requires Cisco Adaptive Security Appliance (ASA) Boot image 8.0(4) or later. For licensing questions and evaluation licenses, please contact ac-temp-license-request (AT) cisco.com and include a copy of "show version" from your Cisco ASA.
FEATURES:
— Automatically adapts its VPN tunneling to the most efficient method based on network constraints, using TLS and DTLS
— DTLS provides an optimized network connection
— IPsec/IKEv2 also available
— Network roaming capability allows connectivity to resume seamlessly after IP address change, loss of connectivity, or device standby
— Wide range of authentication options
— Supports certificate deployment using AnyConnect integrated SCEP and the certificate import URI handler
— Policies can be configured locally, and automatically updated from the security gateway
— Access to internal IPv4/IPv6 network resources
— Administratively controlled tunnel policy
— Localizes according to the device's language and region settings
SUPPORT:
If you are an end-user and have any issues or concerns, please contact your organization's support department. If you are a System Administrator having difficulties configuring or utilizing the Application, please contact your designated support point of contact.