Каждый браузер имеет буквенно-числовую последовательность, которая его определяет в глазах сайтов и других площадок. Часто такие сервисы ограничивают доступ для определенных платформ. Как этого избежать? Сегодня мы поговорим о том, как изменить User Agent Firefox, рассмотрим его особенности и несколько способов работы с ним.
Коротко о главном
User-Agent (UA) – строковое значение, идентифицирующее копию браузера и передает определенные данные серверам. Изменение этих значений важно для получения доступа к информации, закрытой по каким-то причинам.
Эта процедура активно используется разработчиками приложений для оптимизации своих проектов, их адаптации под разные платформы.
Инструкция
Служба поддержки браузера Мозилла предлагает пользователям сделать сброс строки кода до «заводского» параметра. Для этого нужно:
В поисковой строке ввести about:config, согласиться с риском лишения лицензии этой копии приложения.
В открывшемся окне сформировать запрос по слову useragent.
Выделить каждый измененный параметр, вызвать ПКМ диалоговое подменю и выбрать пункт «Сбросить».
Также потребуется очистить историю посещений и куки.
Приведенный выше способ далеко не единственный, поэтому двигаемся дальше. Для удобства восприятия разобьем дальнейшее повествование на несколько логических блоков.
Изменение в настройках Firefox
Для коррекции буквенно-числовой последовательности нужно выполнить несколько шагов инструкции, представленной ниже:
Формируем поисковый запрос по фразе about:config, принимаем во внимание риск лишения лицензии этой копии браузера.
Затем в пустое поле вводим general.useragent.overr />
Измененный параметр активен до момента внесения новых правок или его полного удаления, продолжает работу после перезагрузки или выключения Firefox.
Используем расширения
Эта процедура экономит уйму времени и не уступает по эффективности методам, описанным выше. Рассмотрим особенности работы с дополнениями на примере User-Agent Switcher:
Открываем эту ссылку https://addons.mozilla.org/ru/firefox/addon/uaswitcher/?src=search.
Кликаем на кнопку «Добавить».
Инструментарий становится доступным в виде иконки в правом верхнем углу экрана.
Нажатие на ярлык вызывает выпадающее меню, где можно выбрать приемлемый вариант.
Расширение недавно получило глобальное обновление, так как функционал устарел и не был заточен под новые версии Mozilla Firefox.
Подведем итоги
User-Agent упрощает деятельность пользователя, связанную с поиском информации, закрытой для определенных платформ. Также исходный код помогает разработчикам оптимизировать работу приложений и утилит, адаптировать их под новые платформы.
At the edge of tweaking
You may not republish any content as your original work or without credits. © Winaero
The user agent of a web browser is a string value which identifies that browser and provides certain system details to servers hosting the websites you visit. Changing the user agent string can be useful in certain scenarios when some web site's functionality is locked down to the specific platform and you need to bypass the restriction. It's not required to mention that changing the user agent can be useful for web developers. Here's how to change the user agent string in Mozilla Firefox. This can be done either with an extension or natively.
Traditionally, the user agent string is used by web developers to optimize their web apps for different devices. This allows developers to differentiate various device classes like tablets, phones, Desktop PCs and laptops, and more. The user agent string can provide web servers some details about the user's operating system, and the browser version.
Firefox as of this writing ships with the new Quantum rendering engine. Also, it features a refined user interface, codenamed "Photon". The browser now comes without support for XUL-based add-ons, so all of the classic add-ons are deprecated and incompatible. See
Thanks to the changes made to the engine and the UI, the browser is blazingly fast. The user interface of the app is more responsive and it also starts up noticeably faster. The engine renders web pages much faster than it ever did in the Gecko era.
To change the user agent in Firefox, do the following.
Open a new tab and enter the following text in the address bar:
Confirm that you will be careful if a warning message appears for you.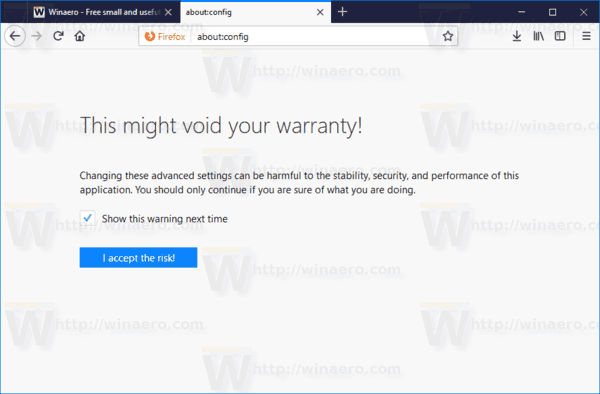 Enter the following text in the search box:
See if you have such a parameter in the search results.

If you don't have the value general.useragent.overridepreference, create it yourself. Right-click on the about:config page, and go to New -> String in the context menu.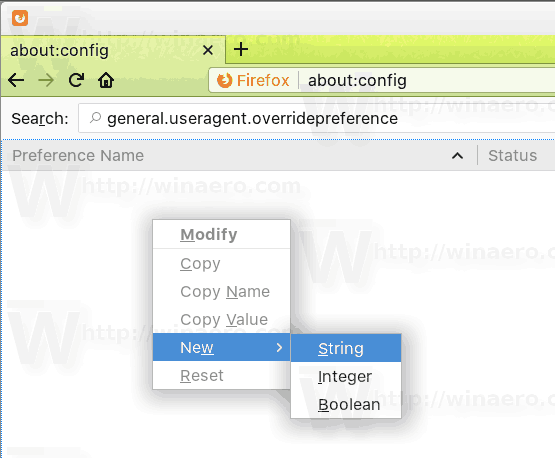 Name the new value as general.useragent.overr />
Here are some typical user agent strings you can use.
Chrome on Linux:
Mozilla/5.0 (X11; Linux x86_64) AppleWebKit/537.36 (KHTML, like Gecko) Chrome/65.0.3325.181 Safari/537.36
Mozilla/5.0 (Windows NT 10.0; Win64; x64) AppleWebKit/537.36 (KHTML, like Gecko) Chrome/46.0.2486.0 Safari/537.36 Edge/13.10586
Mozilla/5.0 (Windows NT 6.1; WOW64; Trident/7.0; AS; rv:11.0) like Gecko
More can be found on this web site: UserAgentString.com
Change the user agent in Firefox with an extension
If you are switching the user agent in Firefox frequently, you can save a lot of time and use the following extension:
Navigate to the link above and click on "Add to Firefox".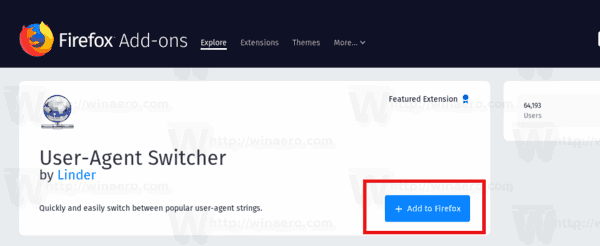 This add-on is a revived version of the classic and popular User-Agent Switcher and is written with web-extensions API. The old version can't be used in modern versions of Firefox. This one is compatible with Firefox Quantum.
You are here: Home » Firefox » How To Change User Agent in Firefox
Winaero greatly relies on your support. You can help the site keep bringing you interesting and useful content and software by using these options:
Connect with us
For your convenience, you can subscribe to Winaero on the following web sites and services.
Переопределить строку User-Agent в браузере
Метаданные расширения
Используется
Easily pose as another browser by changing the User-Agent header.*
Pretending to be a different browser can be useful in a number of different situations:
Some web pages require you to log in or buy a subscription to view their content, but give full read access to search engines.
Some web pages determine whether you're using a mobile or desktop browser based on your user-agent.
Some web pages require you to use a specific browser to access their site.
And potentially more…
Note that your browser will not magically morph into a different piece of software just because it's pretending to be some other software. If a web site locks you out because your browser does not support a feature they require then changing the User-Agent will not make any difference.
* Also changes navigator.userAgent , as well generating convincing values for several of the other navigator.* properties.
– Translating "User-Agent Switcher" to a new language
Any help in translating this extension is greatly appreciated! To do so, simply visit our project on the WebLate hosted instance, create an account and either select an existing language or add a new one to get going. Thanks for helping out!
(Alternatively you may submit a merge request on GitLab with the updated translation files or send me the translations using the "Support E-mail"-Address.)
– Getting Help
Found a bug or want a new feature? Please use the GitLab issue tracker to submit these instead of just mentioning them as part of your reviews. This way it becomes much easier for me to keep track of reported issues and get back to you if additional information is needed to help you.
Please note however that "User-Agent Switcher" is mostly in maintenance-only mode now and new features will not be added by me (the primary author, Alexander Schlarb) anymore. I'm still open for patches from the community however and would also welcome your support through the linked BountySource buttons under each Feature Request issue in the tracker.
– Watching it work
If you want to watch User Agent Changer work, there are a few things you could try:
Use a web service (such as UserAgentString.com) to see your currently sent User-Agent header.
Use the built-in Network Analyzer (Ctrl-Shift-Q) to view the User-Agent header.
Enter navigator.userAgent into the Scripting Console (Ctrl-Shift-K) to view the client-side User-Agent value.
– Frequently Asked Questions
Why doesn't the extension work on this very site (Mozilla/Firefox Add-ons)?
To find out more about why these restrictions exist and how disable them if you must, please take a look at the following blog article: https://ninetailed.ninja/extensions-modify-mozilla-sites.html
(This information was moved from this extension's description to an external source, since a Mozilla reviewer felt that suggesting changes like the one proposed in the linked article are not acceptable for the listing of sandboxed browser extension.)
Why is the extension file so large (4 MiB) compared to others?
In order to provide almost perfect emulation of User-Agent values, User Agent-Switcher bundles a stripped-down version of BrowsCap. This allows us to derive all relevant JavaScript navigator.* browser/OS identification values from just a single value: The User-Agent value you enter (and a bit of magic behind the scenes). Other extensions with a similarly complete level of emulation used to store all these values in huge tables along with the User-Agent value itself, making it very hard to add new entries.
Doing this kind of emulation without using BrowsCap would be extremely hard for us, as there are only few rules regarding the structure of User-Agent strings and the most interesting part end up in the extremely browser-specific comment section of the string. As such, we consider these extra 3MiB+ of data shipped with the extension a fair price to pay for having almost perfect out-of-the-box emulation of all these values with no extra user configuration required.
And yes, the BrowsCap data is here to stay and if you cannot cope with the extra size this causes please kindly download a different extension and don't down-vote. Other people appreciate this decision even if you don't.
Сообщить о нарушении правил этим дополнением
Если вы считаете, что это дополнение нарушает политики Mozilla в отношении дополнений, или имеет проблемы с безопасностью или приватностью, сообщите об этих проблемах в Mozilla, используя эту форму.
Не используйте эту форму, чтобы сообщать об ошибках или запрашивать новые функции в дополнении; это сообщение будет отправлено в Mozilla, а не разработчику дополнения.
Это дополнение может:
Получать доступ к вашим данных на всех сайтах
Получать доступ ко вкладкам браузера
Получать доступ к активности браузера при навигации
Узнать больше о разрешениях